UoR Highlights, The Official Newsletter of University of Ruhuna
Welcome to UoR Highlights, the official newsletter of the University of Ruhuna. We intend to publish UoR Highlights bi-annually with the aim of fostering a dialog among our key stakeholders. More specifically, the UoR Highlights publishes information on recent developments, events, research publications, conferences and collaborative research projects at the University of Ruhuna. In addition, in each issue, we publish feature articles which address current topic in education and higher education.
Together with other publications at the University of Ruhuna, we believe that UoR Highlights will generate interest among our stakeholders by creating a platform for fostering an effective dialogue.
We welcome your comments and suggestions that will enhance the future directions of UoR Highlights.
UoR Highlights 2022, volume 12 (Issue 02)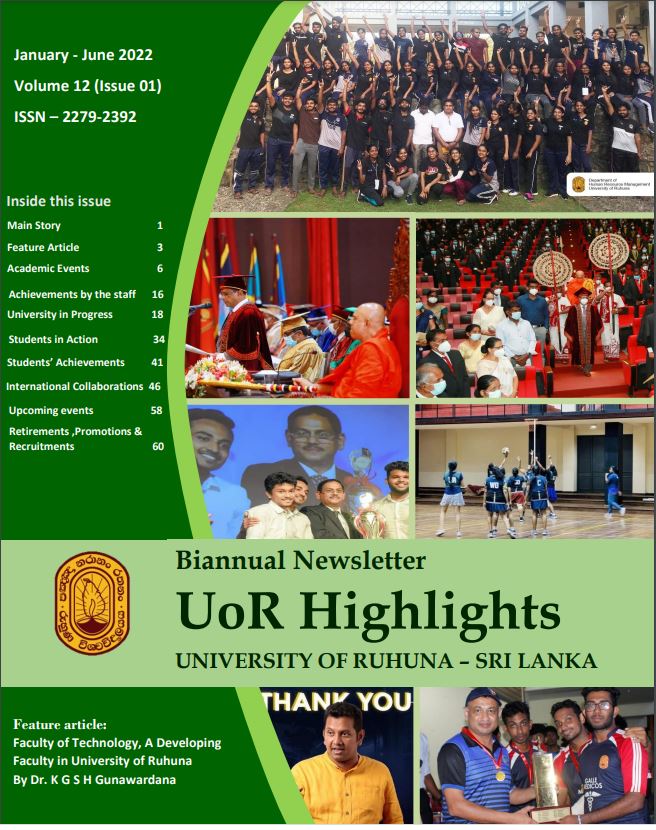 Editorial board
Editor in Chief
Prof. (Mrs) Sudheera Jayasinghe
Faculty of Medicine
Dr. J. M. R. S. Appuhamy
Department of Interdisciplinary Studies
Faculty of Engineering
Mr. W. T. M. De Silva
Department of Marketing
Faculty of Management and Finance
Mrs. Champika S. Jayaweera
Department of Bio Systems Technology
Faculty of Technology
Dr. D. P. P. G. Liyanage
Department of Sinhala
Faculty of Humanities & Social Sciences
Dr. U. K. Egodage
Department of Physiology
Faculty of Medicine
Mr. T. U. W. Abeygunasekara
Department of Nursing
Faculty of Allied Health Science
Mrs. R. G. A. Iroshinie
Department of Oceanography and Marine Geology
Faculty of Fisheries and Marine Sciences & Technology
Dr. Y.M.A.L.W. Yapa
Department of Chemistry
Faculty of Science
Dr. Dananjali Gamage
Department of Agriculture Biology
Faculty of Agriculture
Prof L.P.Jayathissa
Faculty of Graduate Studies
Mrs. T. Kuruppu Arachchi
Senior Assistant Librarian
Coordinator
Ms. K.K.L Hasini
VC Office